Colleges and Programs
Academic Focus Areas for Majors
Arts, Humanities, Communications & Design
Gain focused skills and a strong foundation for transfer
Gain real-world experience, professional and leadership skills
Health Sciences & Services
Prepare for careers in nursing, an array of direct care roles
or healthcare administration
Prepare for a career in the restaurant, resort, recreation and event management professions
Industry & Transportation
Preparation for in-demand, hands-on and highly skilled professions
Social, Educational & Behavioral Science
Prepare for careers with huge impact and personal meaning
Stem and Advanced Manufacturing
High-tech and in-demand across an array of industries from
aerospace to life sciences
12
New Hampshire locations
CCSNH offers true statewide reach with 7 colleges and 5 academic centers across New Hampshire.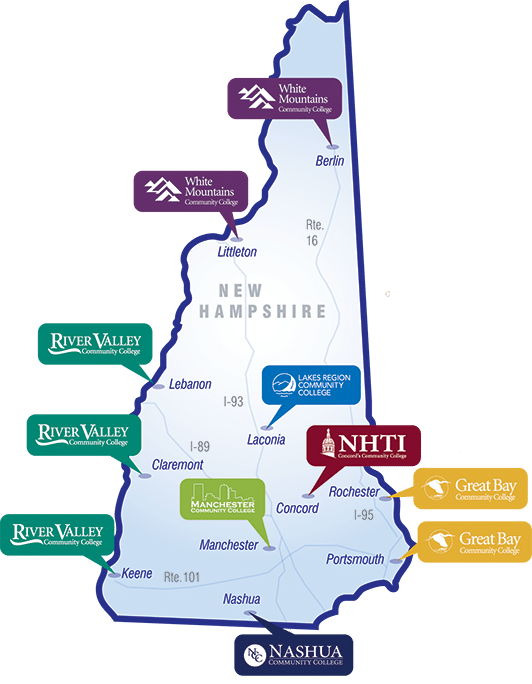 Business Training
WorkReadyNH

Is a tuition-free workforce development program tailored to meet the needs of job seekers and career builders, providing training in the skills employers are seeking.

Apprenticeship NH

Learn and advance in a profession through paid, hands-on work alongside classroom learning through an apprenticeship model designed by the colleges and NH employers.

Job Training Fund

The Job Training Program for Economic Growth provides matching funds for companies to invest in upgrading the skills of their employees.  Businesses throughout NH use this program to stay competitive in an increasingly global marketplace.
NH Community Colleges offer several ways high school students can earn college credit
Still can't find what you're looking for? No problem.